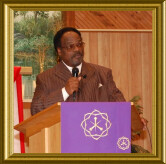 Bishop Marvin Mason is a Pastor, husband and father who has committed his life to the preaching and teaching of the gospel of Jesus Christ.
In 1980, Pastor Mason experienced an encounter with God that changed his life forever. While reading the book of Revelation, the fear of the Lord came upon him and he asked the Lord Jesus Christ to come into his heart and be his savior.
Since that time he has served as a counselor for the CBN Network 700 Club and as an usher, Sunday School Teacher, and Home Fellowship Director before serving as the Assistant Pastor at Manna Christian Fellowship Church under the covering of Bishop Wellington Boone from 1985 to 1994. In December 1994, he was installed as its Pastor.
He is a 1978 graduate of Virginia Commonwealth University with a Bachelor of Science Degree in Business Administration. Subsequently, he has earned a Bachelors in Theology, a Masters and Doctorate in Sacred Studies from the Christian Life School of Theology in Georgia..
He married the former Kate Coleman on October 9, 1982. They have two adult children, Matthew and Jessica, father-in-law to Tawana, and Sherwood and grandfather of Hannah and Taylor.
His greatest desire is for all to come to know the Lord Jesus Christ as he does and to to serve the body of Christ as a pastor and shepherd by being an example of Christ-likeness to both my natural and church families. And demonstrating servant leadership in the communities we serve.