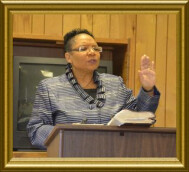 Kate Mason is a woman who loves the Lord with all her heart, mind and soul. She is the founder and leader of the United Fellowship of Christian Women, the Executive Pastor over Administration and Christian Education at Manna Christian Fellowship Church of Richmond, Virginia. Pastor Mason has a B.A. in Political Science from Virginia State University, a Bachelors in Theology, and a Masters and Doctorate in Sacred Studies and Theology from Christian Life School of Theology. She has served on the Virginia Public Guardian and Conservator Advisory Board and was a founding board member for the East End Pregnancy Test and Help Center. She is the wife of Bishop Marvin Mason, the mother of two adult children, Matthew and Jessica, mother-in-law to Tawana, and Sherwood and grandmother of Hannah and Taylor.
As an Intercessor, she recognizes the power of prayer to positively affect lives and every aspect of our society. She has made it the foundation of her life and ministry.
As a Singer, she believes the music she sings ministers to the Lord. She understands that worship is not just in song but is an attitude of heart and a lifestyle.
As the Director of the Women's Ministry at Manna Christian Fellowship Church, she provides spiritual oversight by mentoring, training, and teaching God's Word to the women in her church.
As the Co-pastor of Manna Christian Fellowship Church, along with her husband, Marvin Mason, she serves as the administrator for church affairs, provides biblical counsel, and aids in the spiritual growth of the body of Christ.